Traveling with a dog from the USA to Pakistan can be an exciting adventure, but it requires careful planning and preparation. Especially when flying internationally. If you're flying with a pet from the USA to Pakistan, there are specific requirements and considerations you need to be aware of to ensure a smooth and stress-free journey for both you and your pet.
In this comprehensive guide, we'll walk you through the steps to ensure a smooth and safe journey for your pet (dog or cat). From understanding vaccination requirements to choosing the right travel carrier, we've got you covered.
Disclaimer: We have only referenced Turkish airlines, and you may have to check information about other airlines. This blog post is referring largely to in-cabin pet travel, from the U.S to Pakistan, however you can use the information for the opposite direction and for cargo travel. 
Making Travel Arrangements
1. Booking Your Flight with Turkish Airlines
Turkish airlines allow pet travel within the cabin for international travel. Most owners don't want to put their best friends through cargo. If they are small enough (refer to weight specifications below), then feel comfortable knowing this airline makes it so easy!
You will want to first book your own ticket for the flight. But first you need to ensure that your pet can even travel with you on the same flight. To do this, you can find a cheap fare, hold it and then check with the airline if your pet can travel with you on said date.
It is very easy to reserve your ticket online with Turkish Airlines for a small fee. The hold reservation is a $20 fee, and can be for up to three days. This gives you ample time to figure out logistics without having to worry about paying the full ticket fee.
After reserving your ticket online, contact the Turkish Airlines office directly to confirm you will be traveling with a pet.  Make sure that they have in fact reserved your pet for that flight. You should receive a confirmation email notification about this!
This is done to make sure no other pets are scheduled to travel in-cabin on the same day as your flight.
 Not more than two animals are allowed in cabin on each flight. They are seated far away from one another as well.
Now book your own ticket!
 When it comes time to make the full payment for your pet, you will be required to pay a flat fee of $290 at the time of departure. I.e at the check-in counter on the day of your flight. 
Please note: Costs may have changed since our research. Be sure to inquire about any additional requirements or procedures during this process.
Meeting Medical Requirements & Pet Travel Documentation
Each country has its own medical specifications for pets entering their borders. You have to make sure you meet all the vaccination requirements. Some countries, and airlines, do not allow certain ("dangerous") breeds in the country/on board. You will have to see their specifications on government/airline websites. 
When traveling with a dog from USA to Pakistan, it is crucial to research and comply with the requirements of both countries. However, in Pakistan's case all you need is: 
proof of vaccination
proof of microchip
USDA/vet health certificate
However, some countries may require additional tests, such as a rabies titer test. Consult your veterinarian to ensure your pet meets all the necessary medical requirements.
2. Working with a Vet in the U.S
Once you have gathered the required vaccinations and medical records, you'll need to consult with a local vet for traveling with a dog. The local vet will review the documentation, declare your pet fit to travel, and prepare the necessary travel documentation.
Costs for this can vary depending on if your pet is insured or not. If not, yes the cost is high…
IMPORTANT: Once you receive the health certificate from your vet, it is ONLY valid for 10 days. So you have to travel before the document expires.
3. Sedation for Pet Travel
It's advisable to discuss with your vet the option of a sedative, such as Trazodone, to help calm your pet during the journey.
Remember not to inform the airline that you'll be administering any sedatives to your pet. Even if your vet has prescribed one. Airlines do not allow it. However Trazadone is supposed to be a herbal drug. 
Pro-tip: Make sure to try it on your pet sometime before you travel to be sure there is no allergic reaction or otherwise. It really helped our's and other friends' pet. Your vet will let you know how many times you can administer the drug. It is good to know if your travel hours are longer than 12 hours.
4. Preparing Import Documentation for Pakistan
Depending on the destination, you may need the assistance of an import agent or another local vet to obtain the necessary documents.
The Ministry of Food and Agriculture is in charge of these documents in Pakistan. For this you will need to contact the ministry (which might require a little effort) and provide them with:
up to date vaccination records
USDA health certificate
Copy of your passport and ticket
It could take them 3-4 days to issue this document. 
Here are the necessary specifications for traveling with a dog from USA to Pakistan. You can also contact this individual to prepare your import documentation for a small fee.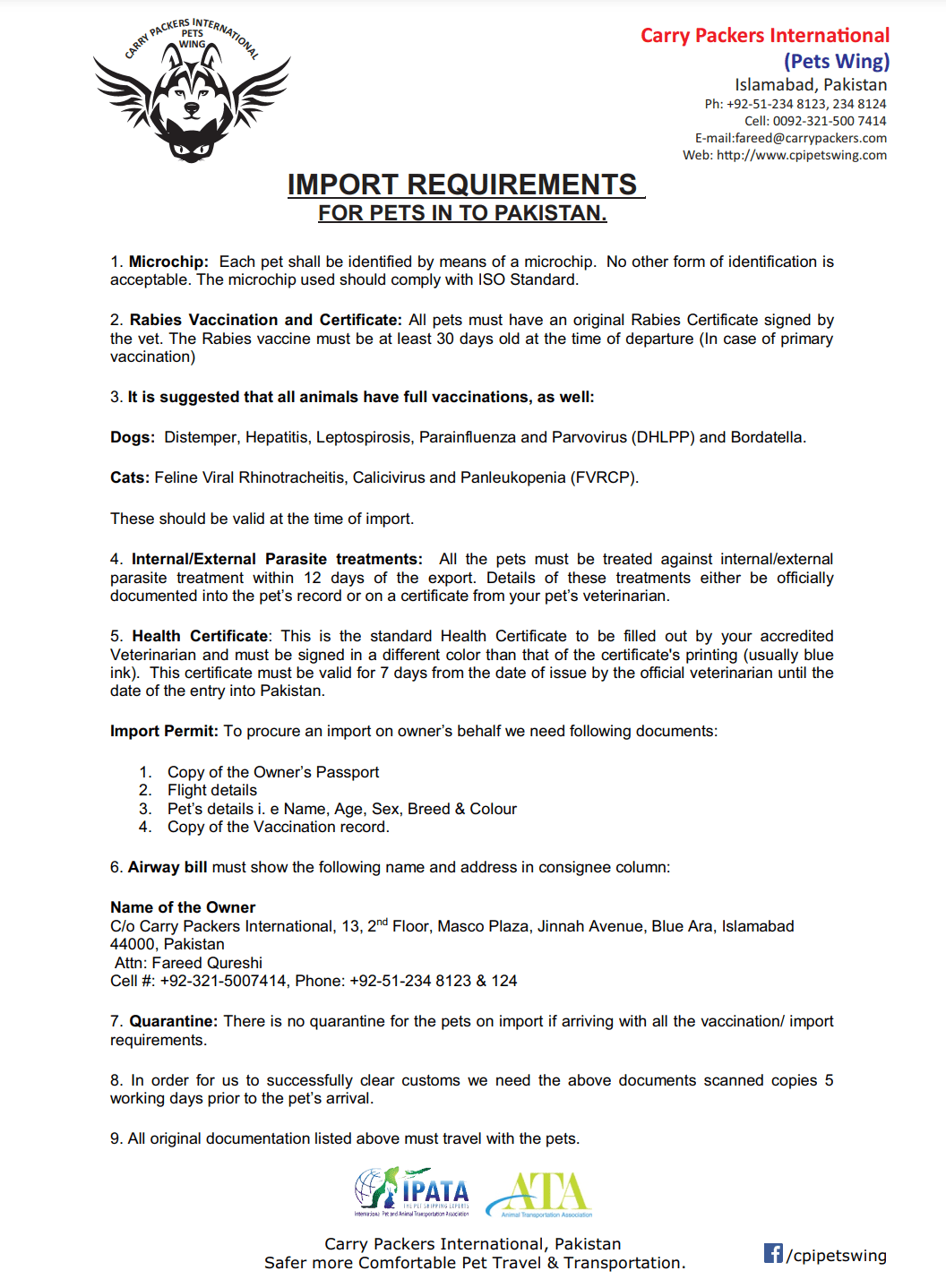 Making Travel Arrangements
5. Understanding Turkish Airlines' Pet Carrier Dimensions
Turkish Airlines has specific guidelines that you would need to make sure to follow.
Dimensions for pet carriers on Turkish airlines should not exceed
23 cm (9 inches) height
30 cm (11.8 inches) width and
40 cm (15.7 inches) length
It is rather small, but we have some tips below to ensure the comfort of your pet! Also, don't stress too much about the size. As long as it's within the margin, you should be good to go. (No one is sitting there with a ruler)
6. Understanding Weight Specifications
Make sure that your pet and the carrier combined do not weigh more than 8kg (17.6 lbs). This is crucial because they will weigh your pet at the counter along with your luggage. If fluffy is a little on the heavier side, we would recommend putting her on a diet before travel!
If your pet exceeds the 8kg limit, they will have to go in cargo.
Health Certificate Validity
It is crucial to know, that the health certificate you obtain from your vet, will only be valid for 10 days. This means you will have to travel within the 10 day mark of issuance. Please be sure to reserve your ticket and visit your vet accordingly!
You will not be allowed to sit in emergency exit seats or more legroom seats. They usually seat you on the wing side. So if you plan on reserving your seat before the flight, don't waste your time on those, and find wing seats (preferably with an open seat next to you). 
You can always request a seat that has an empty seat next to you at the check-in counter as well.
They expect you to keep your pet in its bag at all times. (Shhh: We snuck ours out to cuddle and sleep comfortably in our lap when no one was looking). 
You know your pets personality best, and if they are rambunctious, best to keep the upper zip closed enough just to let them pop their head out. 
Turkish airline staff were a dream! Some popped in for some lovies, while others asked if we need any food or water for our pet.
An airline hostess shared that once a cat got out of her bag and one of the passengers was allergic (oops).
You can also explore Turkish airlines' Frequently Asked Questions about pet travel.
If this is necessary, don't worry about it too much. During lay overs, all pets are kept safely in a quarantine area where they are fed and monitored before they are boarded onto their next flight. 
There are different charges for your pet based on their weight, however.
Pilots have the final decision on whether pets can be transported in the aircraft hold. If the pilot informs staff that ventilation conditions in the aircraft hold are unsuitable, the pet cannot be transported in that aircraft. 

The pet has to be able to get up, turn around and lay down comfortably while in the crate. If crew sees that the carrier does not meet this criteria, they can reject your pet for travel.
8. Selecting a Suitable Dog Travel Carrier
Searching for a carrier is laborious work (believe us we know!) So we are happy to share the ones we liked best. 
Considering all the specifications above, here are a few Amazon links to dog travel carriers that comply with the airline's requirements.
1) Petcious Airline Approved Pet Carrier Backpack
This one is very sturdy, but not so stiff as to be uncomfortable for your pet. It is great because it also doubles up as a backpack. This can make it easy for when you are handling tickets, luggage etc. Especially for a traveler embarking on their own. 
An added plus plus, it has zippers that extend open on the sides. This lets your pet stretch and lay out easily. 
Mind you, this might not be easy to open on the floor of your flight. Especially if you are on a crammed flight. However, if you are lucky and have a seat open next to you (and the other customer doesn't mind) you can pop your pet on the seat and open one side for foofoo to curl up comfortably.
The carrier even has a velcro for the handles to keep it together when you aren't using it in backpack form. Not to mention, it is an extremely sleek and beautiful looking bag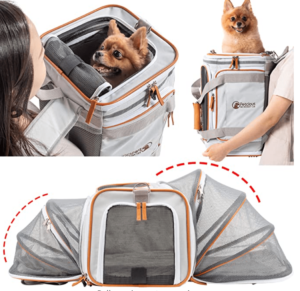 2) Petsfit expandable pet carrier
This one has expandable sides too! This one however offers a plus with a pocket on one side. You can use this to slip a small bag of treats or even a small water bottle, or a quick space to store your boarding pass.
This carrier has a fleece lined cushioning on its bottom which makes for warm and comfortable seating. Your pet then doesn't have to sit on hard airplane floors. This one also looks good but may not have the pazazz of the former one.
We ended up using because it was just a smidge larger than the other one for our booboo. 
Quick tip: If you don't choose to buy any of of these, make sure to read the reviews thoroughly for other products on Amazon! They are super helpful. 
When purchasing, make sure they have a refund/exchange policy before making a purchase. You can always send the item back by dropping it off at the nearest Wholefoods (if buying from Amazon). However, some require you to send it back through FedEx.
Your pet will need some food and water during her journey. There are some awesome products out there to make this easy for you. Here are our recommendations. 
Once you use this, you will never go back. You fill one end with water and simply screw on the top (shaped like a bowl). Whenever your pet needs a drink, you need to simply push the button and water will pour out. 
The great thing is, you can control how much your pet actually drinks. And if they leave some, and you can't throw the excess water in your flight, you can simply pull it back into the bottle. 
This is also great for long, hot walks!
You can use these to treat your pet in flight.  You can use the water bottle bowl to pop some in. However, the likelihood your pet will eat is low.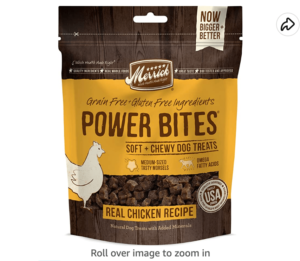 Sometimes our own pets can be finicky. If the water bottle does't suit her, you can buy these bowls. They collapse and hold up to 1.5 Cups (12oz) water or food. They also have a hook, enabling you to attach and detach it from your bag or pet carrier!
Not to mention they even come with covers. Can be great for storing food your dog didn't eat in the fridge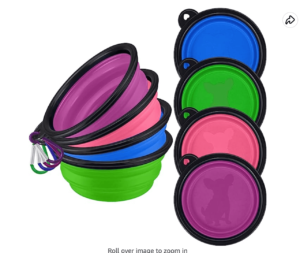 10. Pet Travel Tips and Considerations
On the day of travel, arrive at the airport early to ensure a stress-free check-in process. Don't forget your documentation.
Turkish and USA airports have designated pet relief areas where you can take your pet. It can be a bit of a walk sometimes so do time yourself according to boarding your flight. 
It's important to note that some pets may be too anxious to relieve themselves in unfamiliar surroundings. To prevent discomfort during the flight, avoid feeding your pet a large meal before departure otherwise it will cause a lot of discomfort. Provide small amounts of water intermittently to keep them hydrated. It is very easy to get dehydrated on a flight. 
Just like you feel cold during the flight, so might your pet. Take along a blanket to wrap your pet up in. If they have a toy that offers comfort, be sure to take that along.
Make sure you have your import document at hand when arriving in Pakistan. Have it with anyone coming to fetch you as well just in case. Most of the time its too chaotic at the airport, just keep calm and breeze through!
Traveling with a dog from the USA to Pakistan is a manageable process when you have a clear understanding of the requirements and follow the necessary steps. By selecting an appropriate travel carrier, meeting medical requirements, booking with a reputed airline, and adequately preparing for the journey, you won't need to stress too much.
While waiting around at airports its actually a lot of fun with your playful companion. Get a cup of coffee, and chat with the other travelers who will definitely stop to say hi!
Of course it might not be 100% comfortable for your pet. But just remember, it's only a little while. At the end of the day, all your pet wants is to be with you.